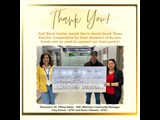 Gulf Bend Center Received Donation from STEC
Gulf Bend Center would like to thank South Texas Electric Cooperative for their recent donation!
New Procedures for Appointments with Psychiatrists & Nurse Practitioners
The way you schedule your doctor appointment is changing. You will now call to schedule your doctor appointment within three to five business days from the time you are due to return to the clinic.

Thank you for your patience as we implement this new system!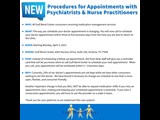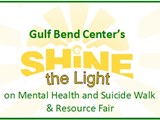 "Shine the Light" on Mental Health & Suicide Walk & Resource Fair

Gulf Bend Center is hosting its 2023 "Shine the Light" on Mental Health & Suicide Walk & Resource Fair on Saturday, May 6, 2023, at the Special Events Area in Riverside Park from 8:00 am – 11:00 am. This will be a fun-filled, free event open to the community.

The goal of the walk/resource fair is to raise awareness about mental illness and suicide by providing individuals, families and parents with information on a wide variety of topics and resources available in our community!  This event will be a great way to educate our community and give individuals an opportunity to connect and network with one another.

If you would like to be an exhibitor and/or sponsor for our event, please complete the forms below. This will be a great opportunity for local agencies to set up a booth and network with our walkers. Over 300 participants have attended this event in the past!

If you would like to walk at the event, please use the link below to register.

Registration Link: https://www.eventbrite.com/e/gulf-bends-shine-the-light-onmental-health-suicide-walk-resource-fair-tickets-524026055037
The first 100 participants to pre-register by April 17th will receive a free event t-shirt.  A limited number of shirts will be sold at the event for $5.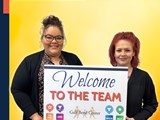 Meet Our Newest Team Members
We are excited to introduce our newest team members, Ericka Jones, Customer Service Rep. & Nikki Genzer, Child & Adolescent Case Manager!
Welcome aboard! We hope that you will find your work at Gulf Bend Center to be rewarding, challenging & meaningful!
Funding is provided by Methodist Healthcare Ministries of South Texas, Inc.
Mental Health, Intellectual & Developmental Disabilities & Substance Use Issues
24-Hour Crisis Hotline: (877)SAFEGBC or (877)723-3422