Intellectual & Developmental Disabilities
Individuals with intellectual and developmental disabilities cover a wide range of ages, social situations, and living conditions. At Gulf Bend, our staff works hard to assist individuals, families, and caregivers identify and utilize available programs and services in our region.
PROGRAM GOALS
To provide information about services to other organizations that serve the IDD population
Offer support, guidance, and assistance to families that are seeking Long Term Services and Support
Link families and individuals to other available services
Promote independence, encourage socialization, and provide community integration
PROGRAM SERVICES
Texas Home Living Services – provides supports and services that allow customers to live with their families or in their own homes.
Home and Community-Based Services – supplements services provided by other Medicaid programs to allow customer to remain in the community setting.
Community First Choice – provides assistance to individuals in need of help with daily activities to increase and foster independence.
PASRR - assists individuals seeking placement in a Medicaid certified nursing facility.
General Revenue Services – monitors services for those individuals that do not have a payer, to include Respite Services and Community Supports.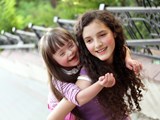 ELIGIBLE CANDIDATES
Services are offered to residents within Gulf Bend's seven county service area: Refugio, Lavaca, Dewitt, Goliad, Victoria, Jackson, and Calhoun. *Individuals will not be denied access to services based on current address or ability to pay.
Funding is provided by Methodist Healthcare Ministries of South Texas, Inc.
Mental Health, Intellectual & Developmental Disabilities & Substance Use Issues
24-Hour Crisis Hotline: (877)SAFEGBC or (877)723-3422